Custom Stickers
Online Ordering is SO easy!
1. Email your designs to info@mauistickers.com
2. A real person will email you back ASAP to help go over any questions.
3. We'll send you an online proof for your approval or changes.
4. 1-2 day pickup locally on Maui in Pukalani or Haiku or 3 day first class mail delivery to the mainland USA.
Find out more
UV Protection
Made for outdoor or indoor use, our vinyl stickers come with 5-year UV protection, even in the Hawaiian sun. 
Support Local
Our promise to you is quality printing at an affordable price with a FAST turnaround. (Something's not right? We'll fix it even faster!) Our team on Maui is happy to help! Contact us at any time!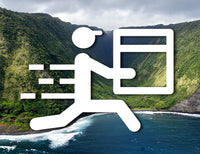 Get Your Stickers Fast!
We have a 1-2 day turnaround on all custom sticker orders. Get your stickers shipped the next day without paying mainland overnight fees.
Start Your Custom Sticker Order Today